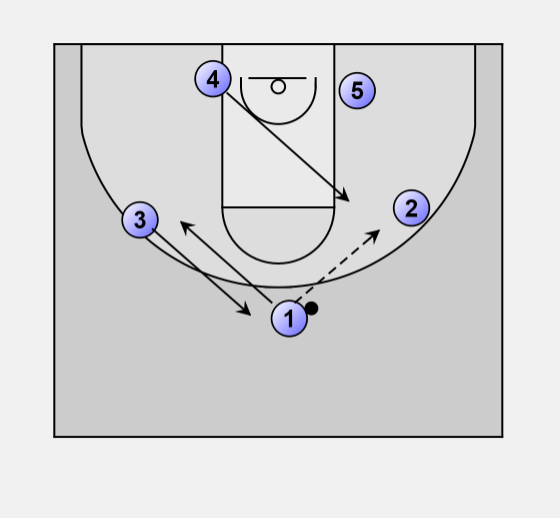 In Blue 3 whichever side the ball goes into a wing the opposite post flashes to high post area, ball side post- posts up on block and works the short corner area. After passing the ball the 1 and 3 exchange positions.
Rules:
1. The ball must touch one of the post players before a jump shot by the wings can be attempted
2. If a pass is made into the post/high post the passer must relocate on that same side in case the post is quickly covered they may throw it back out to the passer for either the shot or ball reversal.
3. Don't hold on to the ball forever if the posts aren't initially open keep moving the ball, this is a motion type offense the more you move the ball the better chance they have of getting open in a gap!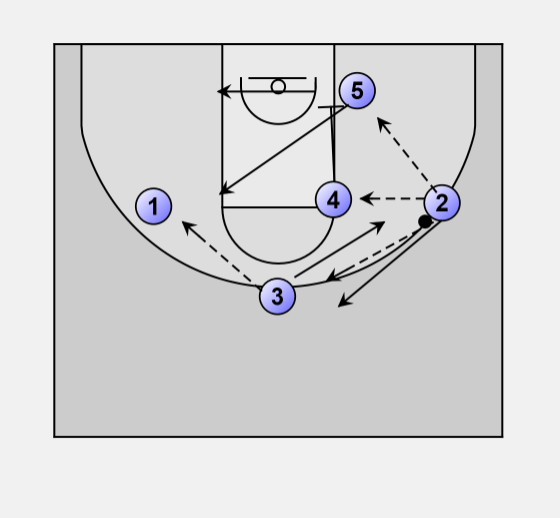 If neither the 4 nor the 5 are open quickly get it back out to the 3, who then gets it back to the 1. As soon as ball goes into the middle of the floor 4 starts to down screen for 5 to flash to the ball side high post. After screening 4 flashes baseline to ball side block and posts up/works short corner area. After the pass to 1, 3 exchanges places with 2.
Options:
If the ball goes to high post and she isn't open she should look at 5 on the block or 1 going back door on the weak side, or 2 repositioning for the jump shot.
If ball goes to 5 and she really doesn't have a shot she should be looking for 4 cutting to the basket or 2 repositioning for the jump shot.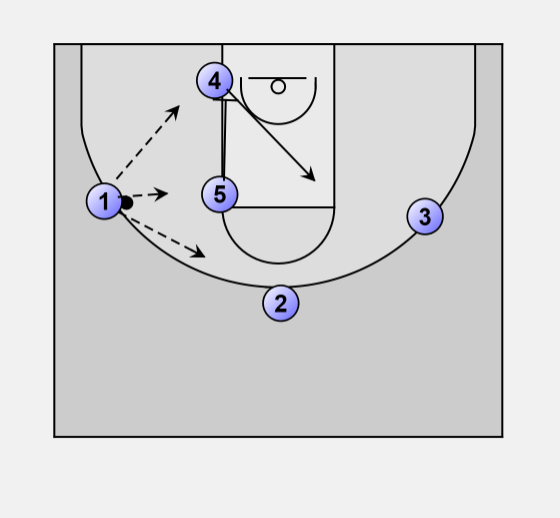 IF THE BALL GOES TO THE POST THEN TO THE 2 AND THERE IS NO SHOT JUST REVERSE THE BALL THEN 5 WOULD FLASH TO THE HIGH POST DON'T WORRY ABOUT THE SCREEN FROM 4 IF SHE HAS CUT TO THE BASKET SHE MAY NOT BE THERE TO SCREEN
Now we are in the same place as the other side looking for entry into 4 or 5 if not there quick ball reversal around and as that is happening 5 is down screening for 4 to flash high post then flashing across baseline to other post. With all of the options previously stated.

Submitted by: Doug Baxter
Category: Offense box