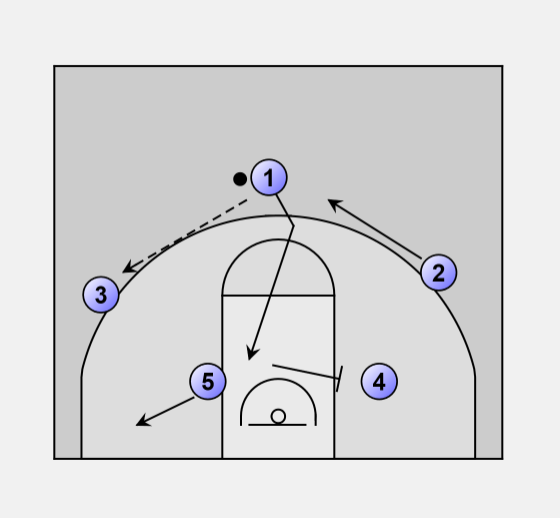 GIVE AND GO ACTION

1 passes to a side and cuts hard to the basket, if he does not receive the pass he screens the opposite post if occupied.
2 replaces 1, 5 steps out to the short corner.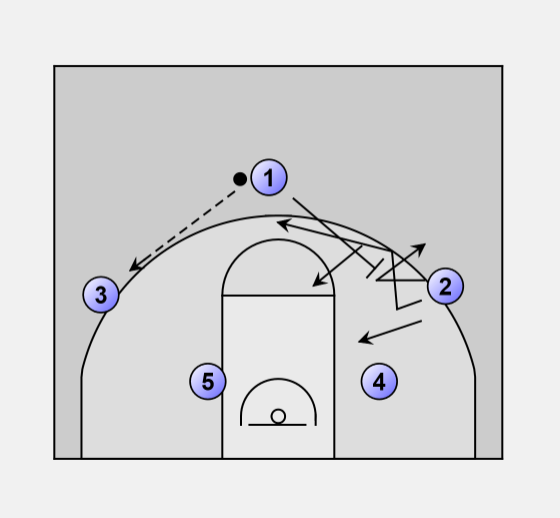 SCREEN AWAY-wing

On any screen the offensive player can pop, curl, cut, or fade.
Depending on how he guarded, 2 will read the defense and make the appropriate movement. This diagram shows all 4 possibilities.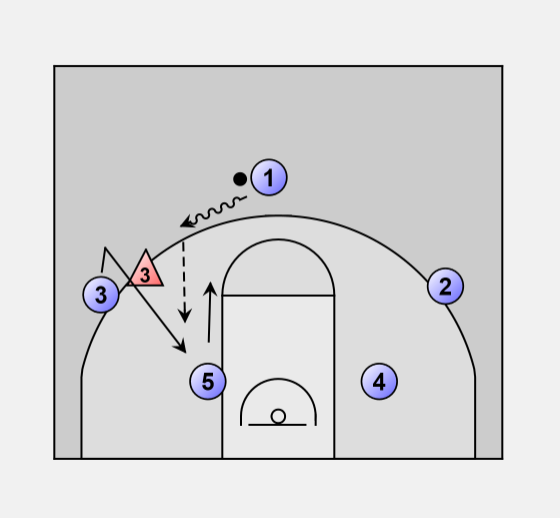 BACKDOOR ACTION

This option can happen at any location on the floor. Anytime you are being overplayed you should take your man backdoor. Take one step towards the ball then cut hard to the basket.
1 should make a bounce pass to the cutter. 5 steps up the lane. 1 could also hit 5 who could hit 3 cutting.
There are countless backdoor opportunities.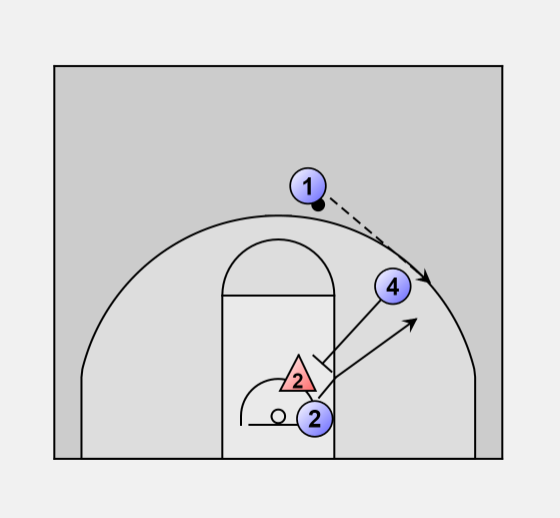 DOWNSCREEN ACTION

Straight Pop
2 reads x2. In this situation 2 pops to the wing to receive the ball.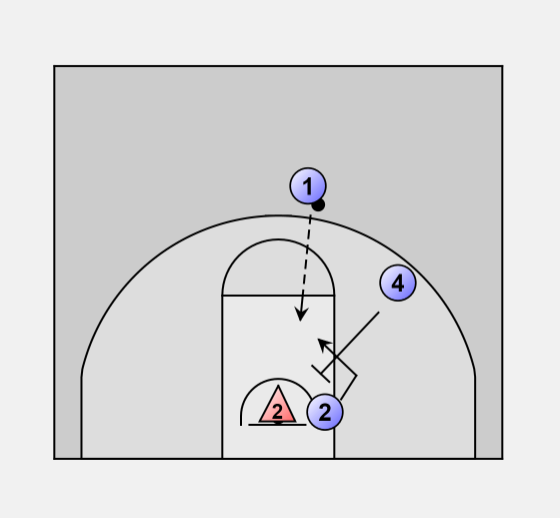 DOWNSCREEN ACTION

Curl
If x2 trails 2, 2 will curl off of 4's screen.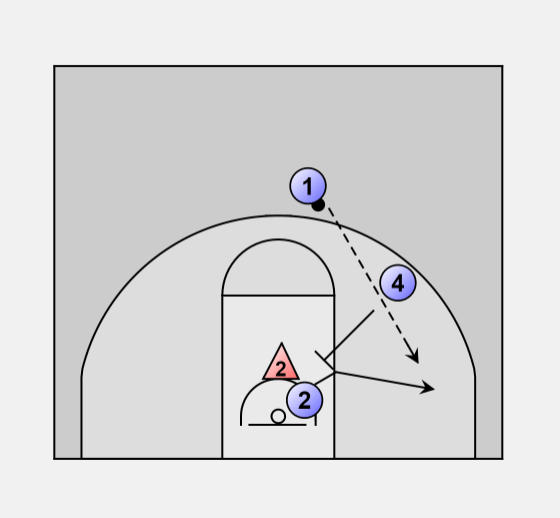 DOWNSCREEN ACTION

Fade
If x2 plays on the topside of the screen, then 2 will fade to the corner.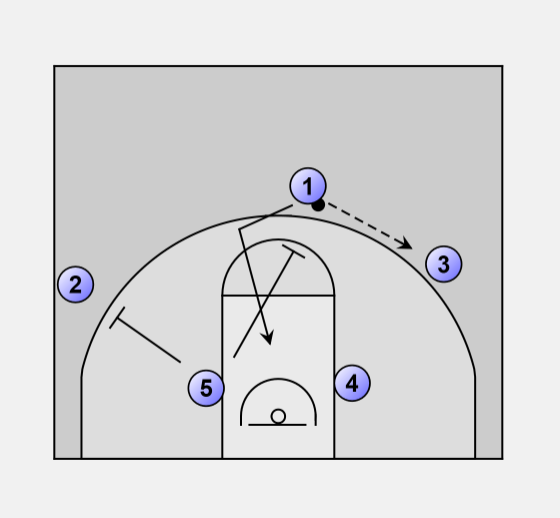 BACKSCREEN ACTION

This can happen at any location by any player. In this situation, 5 can either back screen the point and replace, or the wing.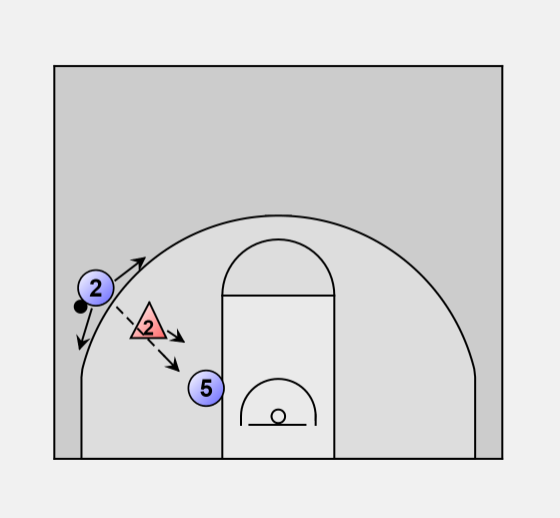 RELOCATION

2 will relocate after making a post feed. 2 must read x2's head to see what way he turns to see the post (possible double team).
If x2 turns towards the baseline to double, then 2 will relocate towards the top of the key, and vice versa.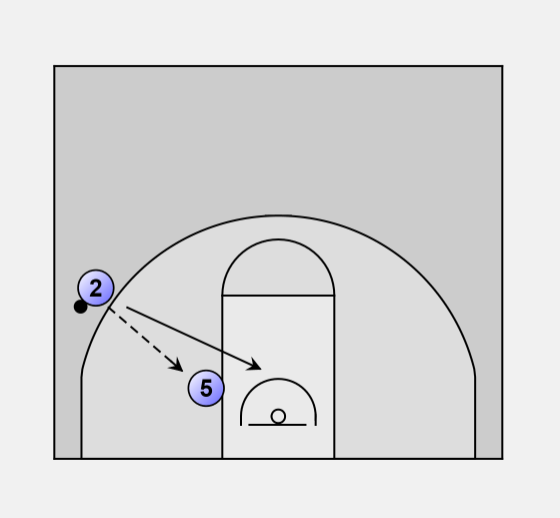 LAKER CUT

After 2 feeds the post he can cut hard to the basket. Similar to the relocation, 2 should read his defenders head before cutting.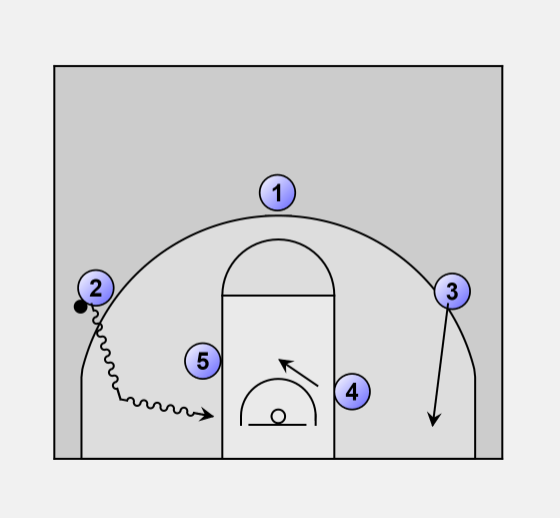 BASELINE DRIVES

When the 2 drives baseline the opposite wing should dive to his baseline for a possible pass, while the opposite post (4) should flash to the middle of the lane. 5 looks to seal off his defender up the lane.

Submitted by: L. Obermayer
Category: Offense motion